Pathway Partners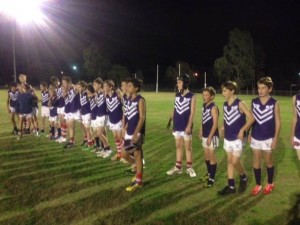 Templestowe Junior Football Club, in conjunction with Templestowe Park and Doncaster Heights Auskicks and Templestowe Football Club has offered a unique football development program for a number of years in which children can have a strong and clear pathway in their football careers, from Under 8s/Under 9s (Tackers) right through to senior football. This was formalised back in 2005, when the club (then Doncaster Heights JFC) established further linkages with Fremantle Football Club. It was because of this and as a mark of our strong affiliations that the senior and junior clubs now play in the same 'Dockers' colours.
Since its inception the partnership program has grown from strength to strength, with many NAB AFL Auskickers going on to join Doncaster Heights and now Templestowe Junior Football Club and subsequently Templestowe FC at Under 19, and senior level.
We run two Auskick programs, one at each of our grounds, typically Saturday mornings at Porter Street, Templestowe  and Friday evenings at Rieschiecks Reserve, Doncaster. To find out more details and also to register for Auskick, go to aflauskick.com.au and use the "Auskick Centre Locator" to find Templestowe Park. If you have any Auskick related queries, don't hesitate to contact:
Contact details for Templestowe Park Auskick
Coordinator:
Steve Walker 0402 482 802
Email coordinator@tpausick.info
Click here to register – Friday Night AUSKICK
Click here to register – Saturday Morning AUSKICK
All NAB AFL Auskick kids get a discounted Templestowe JFC membership if doing both programs, as well as free Junior Membership to the Senior Club that gets them free family entry to Templestowe Home Games.
Links to Partner Clubs


http://www.tpauskick.info/ or email coordinator@tpauskick.info


http://www.templestowefc.com.au